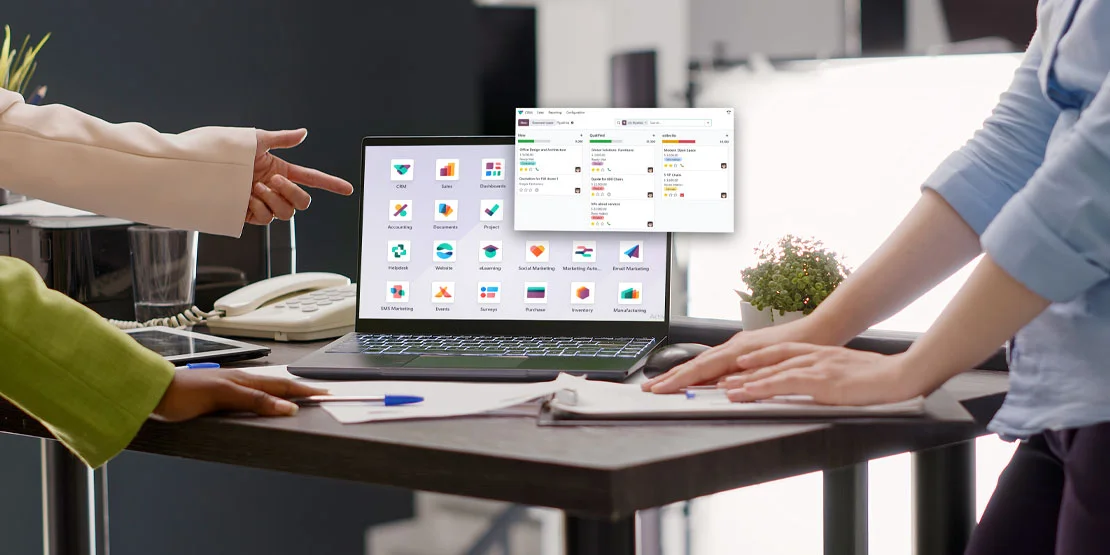 Introduction
Companies are continuously attempting to simplify their processes and acquire a competitive edge in today's fast-paced and highly competitive business scene. Many organisations use Odoo, a comprehensive and sophisticated open-source ERP software, to do this. While Odoo has many features and functionalities, Integrating and Customising it to meet unique company needs can be difficult. This is when experienced Odoo experts come in handy. In this article, we will look at the benefits of working with experienced Odoo consultants and how they can help organisations realise the full potential of this robust ERP solution.
In-Depth Expertise in Odoo Implementation
Odoo experts with extensive experience have in-depth knowledge and competence in Odoo installation. They are well-versed in the many modules, features, and best practises of the programme. They can build and implement bespoke solutions that are properly aligned with a company's particular requirements due to their significant experience. These consultants enable a seamless and effective implementation process, from early planning to post-implementation assistance.
Customization for Business-specific Needs
No two firms are alike, and a one-size-fits-all strategy to ERP deployment is rarely adequate. Experienced Odoo Consultants understand this and excel at tailoring the software to individual business requirements. They collaborate closely with the customer to identify pain spots, optimise workflows, and customise Odoo's functionality. This degree of personalization enables firms to run more effectively and achieve a competitive advantage.
Efficient Data Migration
Data migration is a vital component of every ERP system implementation, and experienced Odoo consultants have perfected their expertise in this field. They guarantee that data is seamlessly transferred from old systems to Odoo, preserving data integrity and reducing the chance of mistakes. This experience reduces possible disturbances during the changeover, allowing organisations to carry on as usual.
Best Practices and Industry Insights
Working with Professional Odoo Consultants allows you to have access to industry insights and best practises. These experts have dealt with a wide range of business settings and issues, allowing them to provide important ideas and solutions. Businesses may optimise their operations, increase productivity, and capitalise on industry-specific possibilities by using their knowledge.
Training and Support
When implementing a new ERP system, personnel must be trained to operate the programme properly. Experienced Odoo consultants not only give extensive training but also continuous help to handle any post-implementation concerns. This guarantees that staff are well-equipped to fully utilise Odoo's capabilities, maximising productivity and ROI.
Cost-effective Solutions
While some companies may contemplate conducting Odoo deployment in-house to save money, working with experienced Odoo consultants is frequently more cost-effective in the long run. These experts can efficiently deploy the system, minimising project time and effort. Furthermore, their customised solutions suit unique business objectives, avoiding the extra expenditure of introducing capabilities that may not be used by the organisation.
Timely Implementation and Go-live
When it comes to deploying an ERP system, time is of the importance. Odoo consultants with experience adhere to a well-defined and efficient Implementation Procedure , ensuring that the project remains on track and is finished within the agreed-upon deadline. This early implementation minimises business impact and helps organisations to realise the advantages of Odoo sooner.
Continuous System Optimization
ERP adoption is a continual process that must be optimised to adapt to changing company demands and technology improvements. Seasoned Odoo consultants provide continuing support and advice, assisting organisations in making the most of Odoo's evolving capabilities.
Faqs
What are the benefits of working with experienced Odoo consultants?
Experienced Odoo consultants offer in-depth expertise in Odoo implementation, enabling them to design tailored solutions that meet specific business needs.
They excel at customizing the software, optimizing workflows, and ensuring a competitive advantage for businesses.
These consultants are skilled in efficient data migration, ensuring seamless transitions from existing systems to Odoo.
They provide industry insights and best practices, helping businesses optimize their processes and capitalize on opportunities.
Experienced Odoo consultants offer comprehensive training and ongoing support for employees, maximizing productivity and ROI.
How can experienced Odoo consultants help with ERP implementation?
Experienced Odoo consultants possess in-depth knowledge of the software's modules, features, and best practices, ensuring a smooth and efficient implementation process.
They work closely with clients to identify pain points and customize Odoo's functionalities to meet specific business needs.
These consultants are skilled in data migration, preserving data integrity and minimizing disruptions during the transition.
What makes experienced Odoo consultants cost-effective?
While some businesses might consider handling Odoo implementation in-house to save costs, experienced consultants can efficiently implement the system, reducing project time and effort.
Customized solutions offered by consultants address specific business needs, preventing unnecessary expenses on features the organization may not use.
How do experienced Odoo consultants ensure timely implementation?
Experienced Odoo consultants follow a well-defined and efficient implementation process, keeping the project on track and completing it within the agreed-upon timeframe.
Timely go-live minimizes disruption to the business, allowing organizations to benefit from Odoo sooner.
How can businesses leverage industry insights and best practices from experienced Odoo consultants?
Experienced Odoo consultants have encountered various business scenarios and challenges, enabling them to offer valuable recommendations and solutions.
By leveraging their expertise, businesses can optimize their processes, enhance efficiency, and capitalize on industry-specific opportunities.