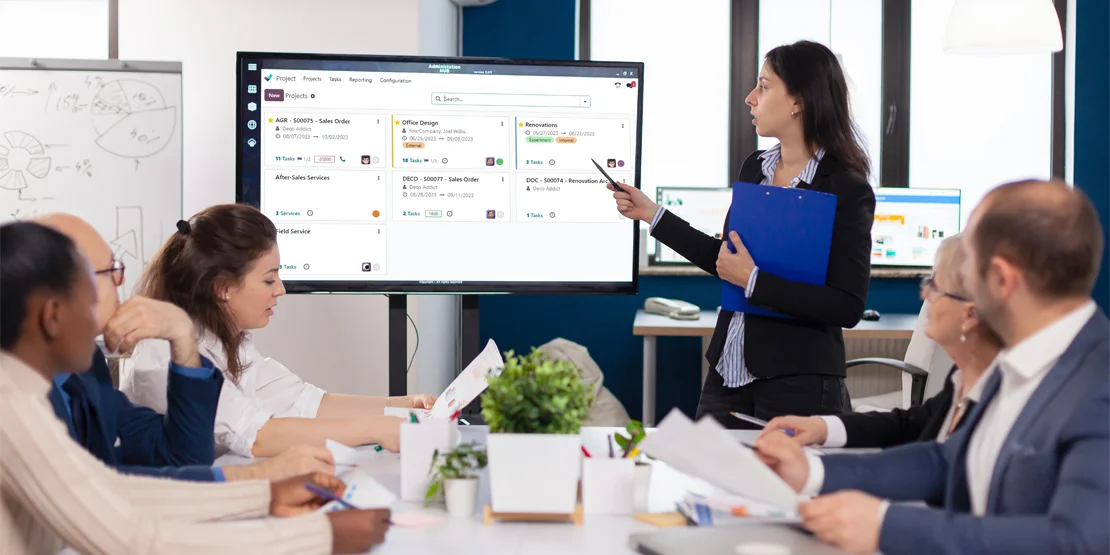 Odoo
Efficient Project Management is critical for every organization's success. When numerous projects are going at the same time, it can be difficult to keep track of tasks, deadlines, resources, and budgets. Businesses, on the other hand, may simplify their project management processes and achieve greater results with the correct tools and techniques in place. Odoo, in conjunction with O2B Technologies, provides a comprehensive solution with a single module for successfully managing many projects.f Open ERP to a whole new level, ODOO has the backing of a vibrant community, is extremely adaptable and readily customizable to your needs, and it is evolving at such a rapid pace that we can't even imagine it now.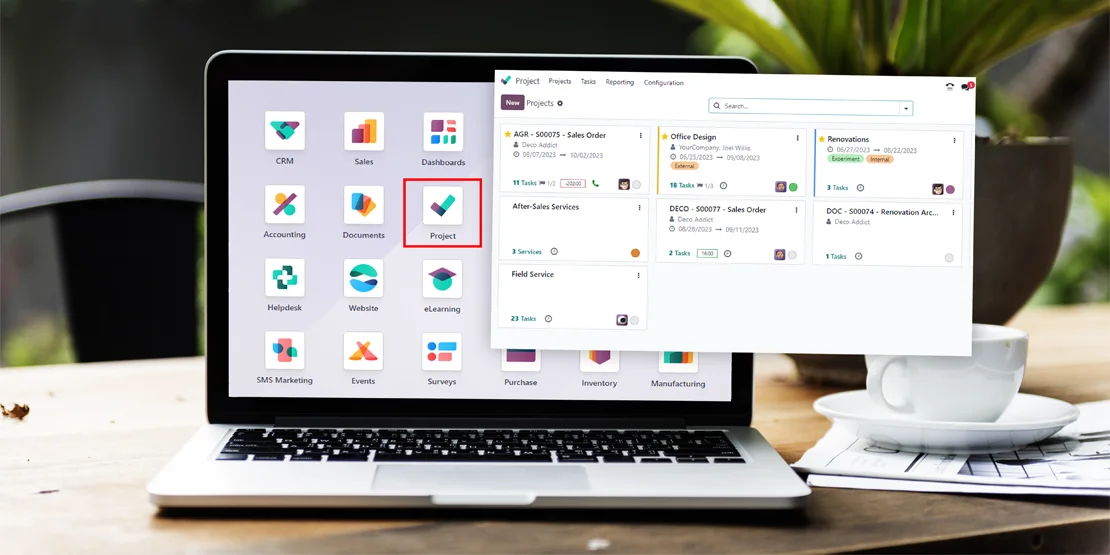 A Centralised Approach to Odoo Project Management Module
Odoo's project management module provides as a centralised platform for project planning, execution, and monitoring. Businesses may use it to establish and define projects, assign resources, set milestones, measure progress, and engage with team members all from a single interface. This integrated strategy has various advantages that have the potential to revolutionise the way projects are managed.
Process
Every organisation has several projects, and managing such a large number of projects can be stressful at times. We offer an Odoo Project Management Module that will assist your organisation in managing projects by allowing you to efficiently manage and monitor activities, work on them effectively, swiftly delegate them while keeping careful track of your assigned tasks, and eventually boost productivity:
Create Projects and Manage Activities
Odoo's Project Management Module provides a customizable workflow for planning and organising activities, analysing time schedules, and assigning tasks. It also allows you to prioritise work and create stages for your single projects, making project management more nimble. Furthermore, numerous functions in project management must be addressed, such as budget management, invoicing and billing, and contract administration. On a daily basis, you may establish projects, edit tasks, and add team members. The project management tracking function informs you of the anticipated and actual time spent on each activity. You may also monitor issues and defects to eliminate mistakes and hazards. Another important element is that you can simply produce invoices based on the time spent on each particular project with only a few clicks.
Project Planning
Create a full-proof strategy for your initiatives to ensure their success. You may connect tasks to your planning map to get a clear picture of who will accomplish what at any given moment. Use the phased strategy to make projects more agile and straightforward, and you will easily reach your aim of finishing projects on time. Using this app, you can quickly track and know the availability of project team members. The Gantt chart helps you to manage your resources and plans simply by dragging and dropping. The calendar view allows you to plot project deadlines and learn about priority tasks and activities.
Service Contracts Management
Odoo Project Management enables managing contacts and other associated services extremely straightforward and uncomplicated. Because of the versatility of the project management module, you may simply handle various sorts of contracts. Fixed-price contracts are simple to administer.
Discussion of Tasks and Document Sharing
Attach files and add brief notes to any assignment to make changes fast and remain connected with your team. Don't worry about numerous follow-up meetings; instead, connect via chatter and write immediately on the shared real-time pad for uninterrupted project management, all from a single interface.
Create an easy-to-read outline of the Project Scope
For each job, we obtain a functional and dynamic graph view. We can quickly construct graphs to analyse your data by utilising a strong search engine, grouping tools, filters, and a range of innovative visual interfaces to assist you in tracking and maintaining your projects at any level. A) Sales B) Electronic Signature C) Invoicing D) Mass Mailing
Complete integration with other Odoo Apps
With a single click, convert sales and purchase orders into invoices and track their payment. Automate the contract signing procedure. In one click, convert quotations into professional-looking invoices.
FAQs
How can the Odoo project management module help me manage multiple projects with different teams?
The Odoo project management module allows you to create separate projects and assign team members to each project. You can allocate resources, set milestones, and track progress for each project individually. This enables effective management of multiple projects with different teams, ensuring clarity, collaboration, and efficient execution.
Can I customize the workflow and stages within the project management module to align with my organization's project management processes?
Yes, the Odoo project management module provides a customizable workflow that allows you to define and adjust stages according to your organization's project management processes. You can create stages, set task priorities, and customize the project workflow to match your specific requirements. This flexibility ensures that the module adapts to your organization's unique project management practices.
How does the project management module in Odoo integrate with other Odoo apps?
The project management module seamlessly integrates with other Odoo apps, allowing for a holistic and integrated approach to project management. For example, you can integrate the project management module with the sales module to create projects directly from customer orders. You can also integrate it with the timesheet module to track time spent on project tasks. This integration eliminates the need for manual data entry and ensures a seamless workflow across different aspects of your business.